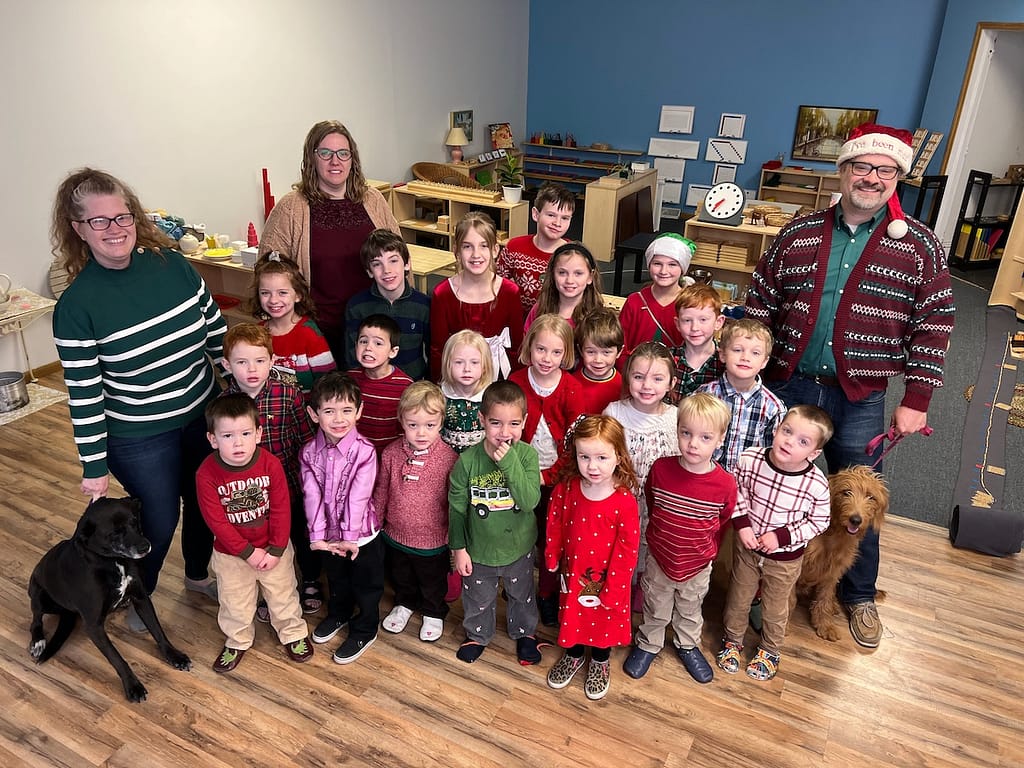 Dear Friends,
A very Merry Christmas Season and Happy New Year to you!
This has been an epic year of growth and forward thinking for Hilltop Children's House Montessori School, and it means we appreciate your partnership even more.
A quick rundown: 
Our Primary Program, in its fifth year, has 18 students now, with five students starting in January. Our largest class before this year was 14. What's more:

we have a waiting list for Primary

.
Our next-door neighbor offered us his building for very little. We were able to buy it with cash through donors' generosity. This means we own both of our buildings outright.
In that new building we launched our Elementary Program.

The Elementary Program extends our education from age three all the way to twelve.

We have eight students in our Elementary, and we anticipate at least five more next year.
We fenced in the back yard to provide a safe and secure place for our children to do outdoor works. We have great plans for gardens, chickens, and other structures to extend the education.
We received a $25,000 grant from the J.C. Williams Foundation to begin significant renovations to our Primary building.

 

We finally replaced the 100 year-old windows in the Primary building. This will significantly help with heating and cooling costs.
This is what we have done. We have lots more to do.
And all of it is in pursuit of our goal: to provide life-changing Montessori programming to those who need it most, the underprivileged children of our own rough inner-city neighborhood and the surrounding area.
Your support can hardly be directed better to make a positive impact on the future.
One four year-old girl on a full subsidy is learning the decimal system, can write the alphabet in cursive, and is preparing to count to 1,000. She can put together the puzzle map of the United States in under three minutes.
A five year-old boy on a 50 percent subsidy can label the continents of the world. He is practicing addition and is on the cusp of learning multiplication. This boy also knows how to make coffee with a French press — and how to clean up after himself! One day when he accidentally spilled the coffee he was making, he cleaned the entire mess on his own, without asking for help.
In Elementary, students are improving their cursive, conducting advanced research into volcanoes, the solar system, birds of Ohio, fossils, and more. Two students wrote a Christmas play, which they and their classmates staged, set-designed, and performed for their parents. By the time students are 10 they are learning how to multiply fractions, make sushi, lead a class discussion about classroom rules, write a research report, and so much more.
Elementary students call and run their own class meetings to discuss classroom discipline and what can be done to encourage good behavior.
This is education for a good and responsible life.
But it is not cheap to run. Comparable Montessori schools charge about $7,500 nationally. They usually are found in wealthier enclaves.
The cost to us to educate each child is $6,400. But we are in a poor neighborhood where that is a prohibitive expense. We charge less than $4,000 per child, plus we have a sliding scale to reduce the amount that we charge families in need. The education is too important to let money get in the way.
Some of our families pay nothing at all.
Naturally, our expenses don't operate on a sliding scale.
So yes: we very much rely on your partnership to keep this going — this year especially.
We issued $19,728 in tuition reduction this school year

. This isn't money we pulled from a fund or endowment, this is money we simply didn't charge.
We incurred significant startup costs to get the Elementary Program off the ground.
Essential renovations to the new building, where we started our Elementary Program were not planned at the beginning of the fiscal year.
Renovations in the Primary building will run about $47,000. Fortunately, we received $25,000 from the J.C. Williams Foundation, leaving us about $22,000 to raise.
We do as much of the physical plant work as we can on our own. Volunteers also help significantly. But many more-complicated jobs — plus staff salaries and construction materials for the jobs we DIY — still cost money.
But all of it is worth the time and sweat, because the results are amazing.
When you see the way these children develop, take responsibility for their own learning, learn to work together, learn to learn from one another and how to teach one another, and learn skills and knowledge that outpaces their peers, you see just how important this work really is. Montessori well done truly changes lives.
None of this is possible without your support — THANK YOU! Can we rely on a generous end-of-year gift?
Even $50 would help, but if you are able to give at a higher level — $500, the full $6,400  to cover one child, or even more — your generosity will help to ensure a brighter future for underprivileged children in Steubenville, Ohio.
Gifts can be given by credit card here. Bank transfers via Zelle can be given from your own banking app using our email address or phone number to find us: [email protected] or 703-517-8735.
Checks can be mailed to:
Hilltop Children's House
117 S. Hollywood Blvd. #133
Steubenville, Ohio 43952
God bless you this Christmas Season, and may you have a blessed and prosperous 2023.
Sincerely,
Noëlle and Tom Crowe
Co-Founders and Lead Guides, Hilltop Children's House