Well, the Coronavirus affected us, too.
No one at Hilltop Children's House was diagnosed the virus, mind you, but when everything shut down back in March, we did too.
We weren't sure we would have to at first, but when Governor Dewine announced the sweeping closures of schools and so many other parts of the state, we met with our parents and decided, together, that we also should follow suit and suspend in-person classes on March 15.
We had sincerely hoped that we would be able to gather at our children's house again before the end of the school year, but the two weeks turned into months, and it rapidly became apparent that that would not happen.
We are so sad that the year ended this way, without being able to say goodbye to those students who won't be returning next year, and without being able to work one-on-one with the children in their works! So much good progress had been made, and we had been having so much fun as a community!
During those eight weeks after everything closed we did what we could online to keep the program going, mostly through posts in a private group on Facebook.
We also were sure to remember everyone's birthday, conducting live chats with all of the families to have our birthday celebrations — "The earth goes around the sun, the earth goes around the sun, the earth goes around the sun and then Jane was two!"
We even made sure the family whose child had a birthday had the globe, candle, candle snuffer, and all the items they needed to have the birthday celebration.
Beyond the birthday celebrations we also did the following to encourage the hands-on, experiential, Montessori education at home, trying to keep our recommendations hemmed in by what we thought parents might already have at home.
So each week we provided:
resources for parents to continue working on letter sounds with their children;
counting pages and word problems for those children who are reading and doing addition and subtraction;
a video of a poem recitation each week;
a question each week to help children categorize their world;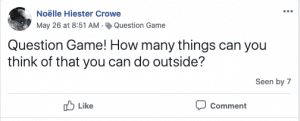 a zoology unit on birds which included pictures of different types of nests, learning about different parts of birds, etc.;
a geography unit on Europe consisting of reading books about different countries and recommended recipes from those countries;
reading a story each week;
different sensorial works, such as geometric shapes, in a printable format;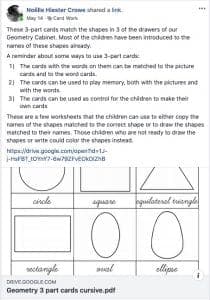 An art project with a little information about a different artist and a project that would imitate some aspect of that artist's work.
a movement exercise such as moving like different kinds of animals or doing motions to a song.
So the latter portion of this year didn't go quite as we had hoped, but it wasn't all bad at the Children's House.
A donor gave us a Granny Smith apple tree which we planted behind the House this spring. It had a handful of apple blossoms on it already this year, so we look forward to picking apples with the children for years to come.
We'll have some more updates very soon. Stay tuned!